Home » Posts tagged 'Makrab'
Tag Archives:
Makrab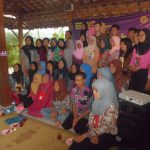 Kali ini Malam Keakraban PBI dilaksanakan di Dolan Deso Boro, Kecamatan Kalibawang, Kulon Progo. Kegiatan ini diikuti oleh 38 mahasiswa baru PBI. Seperti Malam Keakraban yang lalu, tujuan dari diadakannya Malam Keakraban adalah untuk mempererat hubungan antara mahasiswa baru dengan mahasiswa semester atas. Namun yang paling menonjol adalah dengan masuknya 1 mahasiswa dari Turki yang bernama Celaleddin Furkan Sengul. Meski berasal dari Turki, Furkan mampu berkomunikasi menggunakan Bahasa Indonesia dengan baik dan benar sehingga ia mampu bergaul dengan teman- teman seangkatannya.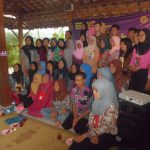 Kegiatan ini diawali dengan penjelasan dari Mrs Nafisah Endahati M.Hum. tentang pentingnya pendidikan Bahasa Inggris bagi siswa. Dilanjutkan pemaparan tentang HMP PBI oleh Ketua HMP Dani Faturrohman. Meski ditemani hujan dan cuaca yang dingin, acara ini tetap berlangsung dengan meriah. Malam pun dihiasi dengan kegiatan api unggun serta kegiatan pentas seni. Kegiatan diakhiri dengan Outbond yang juga disediakan di Dolan Deso Boro. Overall its a wonderful experience for junior and senior students. Lets meet again next year.
Goa Cemara, (September 19th-20th 2015). The Gathering Night of English Education Study Program was held on Goa Cemara. Goa Cemara is located on southern part of Bantul City. It was named Goa Cemara because there were so many cypress tree grown. It were planted by villagers to prevent abrasion, but now it works as tourist attractor because its beauty. That's why we choose Goa Cemara as our venue to hold our Gathering Night.
40 students joined the Gathering Night. The theme of this event is "the warm of the sea gets us closer". The open camp made the participants feel closer to than before. Forget about the formal event. Formalities only bring distance between seniors and juniors. We believe that respect is much more needed than formalities. We believe that Gathering Night should be felt this way. Bring upper classmen closer to new students and vice versa.
We start the day by introducing the structure of English Education Study Program which is explained by Mrs. Sri Wiyanah, M.Hum. Then, the explanation of Student Body which also known as "HMP". Enthusiasm was shown by questions given by participants. Somehow we believed that the Student Body's future is even brighter with them joining our ranks. Enthusiast and high spirited are the required aspect to be a good student, especially for a future English teacher.
Our night was filled with laugh and joy. Freshmen were asked to perform certain performances. Singing, modern and traditional dance, poetry, and stand up comedy. The Music Club also plays and shows us some of their skills. They were there because we invited them, the committee decided to join the fray and sing some song in front of bon fire. The night was felt so long that time, we laugh and smile together. The time shown 11 PM we decided to send the freshmen to their camp, ending the night.
Next morning we saw sunrise together followed by morning walks. Then, we had breakfast together. We do outdoor activities as our last activity. Our equipment staffs were prepared the special fields by themselves. It was Rope jump, rolling marble, laser field, blind drive, and many more. There was also one traditional game named Go Back to Door which also known as "Gobaksodor" in Javanese. It was hilarious and full of laugh. In the end of the day their faces were full of dirt and sweat, but the smile on their face show us that they're happy.
We return to Campus in the afternoon. Tired and sweaty, but laugh still remain in their faces. We believe that they were satisfied like we did. Will the next year gathering night would be like this? Or it would be even better? Let the warm of the sea answers this question.