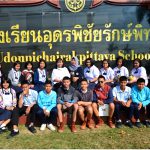 The SEA Teacher Project or the "Pre-Service Student Teacher Exchange in Southeast Asia" is a project that aims to provide opportunity for pre-service student teachers from universities in Southeast Asia to have teaching experiences (practicum) in schools in other countries in Southeast Asia.
Based on the SEAMEO seven priority areas for the eleven SEAMEO Member countries to work together to improve the quality of education in Southeast Asia, "Revitalizing Teacher Education" is one of the priority areas in building and strengthening capacity of teachers in the region.
The exchange is intended to enable pre-service student teachers to develop their teaching skills and pedagogy, to encourage the pre-service student teachers to practice their English skills, to allow the pre-service student teachers to gain a broader regional and world view.
A part from this, English Language Education Department, University of PGRI Yogyakarta (PBI UPY) has sent 11 students to join the program in two different countries (Thailand and Phillipines). The students were placed in 7 universities in Phillipines and Thailand. Correspondingly, UPY also hosted 15 Students from Phillipines and Thailand. On October 8, 2017, UPY  delegated the coordinator of this program to sign the letter of agreement for the participation of the 6th batch in Chiang Mai, Thailand.